Neuerungen als Termingeschäft
Projektkoordination in den Creative Industries
Judith Katharina Nyfeler

Universität Luzern

Raimund Hasse

Universität Luzern
Schlagworte:
Kreativität, Mode, Creative Industries, Projektorganisation, Storytelling
Abstract
Die Creative Industries haben sich in den letzten beiden Jahrzehnten zu einem neuen wirtschaftlichen Sektor entwickelt, der auch politische und gesellschaftliche Anerkennung erfährt. Der sozialwissenschaftlichen Auseinandersetzung mit Fragen der Kreativität bieten sich Anknüpfungspunkte, die von der mittlerweile klassischen Kreativitätsforschung der Psychologie und Sozialpsychologie bis hin zu eher rezenten epochalen Deutungen reichen. In der Organisationssoziologie wird Kreativität – wenig überraschend – als organisierter Sachverhalt begriffen. Vor diesem Hintergrund richtet der vorliegende Beitrag den Blick auf die Mode als ein Bereich, in dem Neues nicht nur erwartet und mit hoher Verlässlichkeit hervorgebracht wird, sondern in dem darüber hinaus auch rigide, zeitliche Vorgaben einzuhalten sind. Die Mode reagiert auf die nicht-hinterfragten und institutionalisierten Kreativitätserwartungen und den permanenten Neuerungsdruck nicht nur mit der Herstellung entsprechender materieller Produkte, sondern auch mit sprachlichen Darstellungen und visuellen Mitteln etwa in Form von Fotoshootings oder Modeschauen. Der hohe Stellenwert der kommunikativen Rahmung ist bezeichnend für die Creative Industries und im Fall der Mode besonders ausgeprägt. Insofern kann Mode sogar als Modellsystem einer Kreativwirtschaft angesehen werden, deren zentraler Bestandteil der Wertschöpfung ebendiese Kreativität ist.
Literaturhinweise
Aage, Tine und Fiorenza Belussi. 2008. From Fashion to Design: Creative Networks in Industrial Districts. Industry & Innovation 15(5):475–491.
Amabile, Teresa M. 1983. The social psychology of creativity: A componential conceptualization. Journal of Personality and Social Psychology 45(2):357–376.
Amabile, Teresa M., Regina Conti, Heather Coon, Jeffrey Lazenby und Michael Herron. 1996. Assessing the Work Environment for Creativity. Academy of Management Journal 39(5):1154–1184.
Aspers, Patrik. 2010. Orderly fashion. A sociology of markets. Princeton and Oxford: Princeton University Press.
Bakker, René M., Smaranda Boroş, Patrick Kenis und Leon A.G. Oerlemans. 2013. It's Only Temporary: Time Frame and the Dynamics of Creative Project Teams. British Journal of Management 24(3):383–397.
Bakker, René M., Robert J. DeFillippi, Andreas Schwab und Jörg Sydow. 2016. Temporary Organizing: Promises, Processes, Problems. Organization Studies 37(13):1703–1719.
Bartel, Caroline A. und R. Garud. 2009. The role of narratives in sustaining organizational innovation. Organization Science 20(1):107–117.
Becker, Howard S. 1974. Art as a Collective Action. American Sociological Review 39(6):767–776.
Blumer, Herbert. 1969. Fashion: From class differentiation to collective selection. The Sociological Quarterly 10(3):275–91.
Bohn, Cornelia. 2006. Kleidung als Kommunikationsmedium. In Inklusion, Exklusion und die Person, 95–124. Konstanz: UVK Verlagsgesellschaft.
Brady, T. und Andrew Davies. 2004. Building Project Capabilities: From Exploratory to Exploitative Learning. Organization Studies 25(9):1601–1621.
Bromley, Patricia, Hokyu Hwang und Walter W. Powell. 2012. Decoupling revisited: Common pressures, divergent strategies in the U.S. nonprofit sector. M@n@gement 15(5):468–501.
Cappetta, Rossella, Paola Cillo und Anna Ponti. 2006. Convergent designs in fine fashion: An evolutionary model for stylistic innovation. Research Policy 35(9):1273–1290.
Cattani, Gino, Simone Ferriani und Mariachiara Colucci. 2015. Creativity in Social Networks. In The Oxford Handbook of Creative Industries 2, Hrsg. C. Jones, M. Lorenzen und J. Sapsed, 75–95. Oxford: Oxford University Press.
Caves, Richard E. 2012. Contacts Between Art and Commerce. In Creative Industries: Critical Readings Volume 2: Economy, Hrsg. B. Moeran und A. Alacovska, 3–13. London: Berg.
Caves, Richard E. 2002. Creative Industries: Contracts between Art and Commerce 2nd ed. Harvard University Press.
Crane, Diana. 2000. Fashion and its Social Agendas. Chicago, London: The University of Chicago Press.
Csíkszentmihályi, Mihaly. 1988. Society, culture, and person: a system view of creativity. In The Nature of Creativity, Hrsg. R.J. Sternberg, 325–339. Cambridge, New York: Cambridge University Press.
Davies, Andrew und Tim Brady. 2000. Organisational capabilities and learning in complex product systems: towards repeatable solutions. Research Policy 29(7–8):931–953.
DCMS, Department for Culture, Media and Sport. 2001. Creative Industries Mapping Document. London: UK Labour Force, Department for Culture, Media and Sport.
DeFillippi, Robert. 2015. Managing Project-Based Organization in Creative Industries. In The Oxford Handbook of Creative Industries, Hrsg. C. Jones, M. Lorenzen, und J. Sapsed, 268–283. Oxford: Oxford University Press.
DeFillippi, Robert J und Michael B Arthur. 1998. Paradox in Project-Based Enterprise: The Case of Film Making. California Management Review 40(2):125–140.
Elsbach, Kimberly D. und Roderick M. Kramer. 2003. Assessing Creativity in Hollywood Pitch Meetings: Evidence for a Dual-Process Model of Creativity Judgments. The Academy of Management Journal 46(3):283–301.
Florida, Richard. 2006. The rise of the creative class 11th ed. New York: Basic Books.
Fortwengel, Johann, Elke Schüssler und Jörg Sydow. 2016. Studying Organizational Creativity as Process: Fluidity or Duality ? Creativity and Innovation Management 2(2):1–12.
Garud, Raghu, Henri A. Schildt und Theresa K. Lant. 2014. Entrepreneurial Storytelling, Future Expectations, and the Paradox of Legitimacy. Organization Science 25(5):1479–1492.
Garud, Raghu, Philipp Tuertscher und Andrew H. Van de Ven. 2013. Perspectives on Innovation Processes. The Academy of Management Annals 7(1):775–819.
Gilson, Lucy L., John E. Mathieu, Christina E. Shalley und Thomas E. Ruddy. 2005. Creativity and Standardization: Complementary or Conflicting Drivers of Team Effectiveness? Academy of Management Journal 48(3):521–531.
Godart, Frédéric C., Andrew V. Shipilov und Kim Claes. 2014. Making the Most of the Revolving Door: The Impact of Outward Personnel Mobility Networks on Organizational Creativity. Organization Science 25(Sept.):377–400.
Guilford, J.P. 1950. Creativity. The American Psychologist 33(4):444–454.
Hargadon, Andrew B. und Beth A. Bechky. 2006. When Collections of Creatives Become Creative Collectives: A Field Study of Problem Solving at Work. Organization Science 17(4):484–500.
Hasse, Raimund und Lucia Schmidt. 2008. Unternehmertum, Arbeit, Sprache. Sociologia Internationalis 48(1):1–28.
Jones, Candace und Benyamin B. Lichtenstein. 2009. Temporary Inter-organizational Projects: How Temporal and Social Embeddedness Enhance Coordination and Manage Uncertainty. The Oxford Handbook of Inter-Organizational Relations January 2017.
Jones, Candace, Mark Lorenzen und Jonathan Sapsed. 2015. The Oxford Handbook of Creative Industries. In The Oxford Handbook of Creative Industries, Hrsg. C. Jones, M. Lorenzen und J. Sapsed, 535. Oxford: Oxford University Press.
Kawamura, Yuniya. 2005. Fashion-ology reprinted. London, New York: Bloomsbury Academic.
Koch, Jochen, Matthias Wenzel, Ninja Natalie Senf und Corinna Maibier. 2018. Organizational Creativity as an Attributional Process: The case of haute cuisine. Organization Studies 39(2–3):251–270.
Lampel, Joseph, Jamal Shamsie und Theresa K. Lant. 2008. Toward a Deeper Understanding of Cultural Industries. In The Business of Culture, Hrsg. J. Lampel, J. Shamsie, und T.K. Lant, 3–14. New York, London: Psychology Press.
Lounsbury, Michael und Mary Ann Glynn. 2001. Cultural entrepreneurship: Stories, legitimacy, and the acquisition of resources. Strategic Management Journal 22(6–7):545–564.
Manning, Stephan und Thomas A Bejarano. 2016. Convincing the crowd: Entrepreneurial storytelling in crowdfunding campaigns. Strategic Organization 15(2):1–49.
McRobbie, Angela. 2016. Towards a Sociology of Fashion Micro-Enterprises: Methods for Creative Economy Research. Sociology 50(5):934–948.
Mützel, Sophie. 2017. Markets from stories. Habilitationsschrift. Humboldt-Universität Berlin, Kultur-, Sozial und Bildungswissenschaftliche Fakultät.
Oldham, Greg R. und Anne Cummings. 1996. Employee Creativity: Personal and contextual factors at work. Academy of Management Journal 39(3):607–634.
Ortmann, Günther und Jörg Sydow. 2018. Dancing in chains: Creative practices in/of organizations. Organization Studies 39(7):899–921.
Patriotta, Gerardo. 2003. Sensemaking on the shop floor: Narratives of knowledge in organizations. Journal of Management Studies 40(2):348–375.
Perretti, Fabrizio und Giacomo Negro. 2007. Mixing genres and matching people: a study in innovation and team composition in Hollywood. Journal of Organizational Behavior 28:563–586.
Perry-Smith, Jill E. und Pier Vittorio Mannucci. 2016. From creativity to innovation: The social network drivers of the four phases of the idea journal. Academy of Management Review 42(1):53–79.
Petkova, Iva. 2016. Between high-tech and high-fashion: How E-Commerce fashion organizations gain moral and pragmatic legitimacy in the fashion field. Poetics 57:55–69. Elsevier B.V.
Reckwitz, Andreas. 2014. Die Erfindung der Kreativität 4th ed. Berlin: Suhrkamp.
Shalley, Christina E. und Lucy L. Gilson. 2017. Creativity and the Management of Technology: Balancing Creativity and Standardization. Production and Operations Management 26(4):605–616.
Simmel, Georg. 1986. Die Mode. In Die Listen der Mode, Hrsg. S. Bovenschen, 179–207. Frankfurt am Main: Suhrkamp.
Slavich, Barbara und Silviya Svejenova. 2016. Managing Creativity: A Critical Examination, Synthesis, and New Frontiers. European Management Review 13(4):237–250.
Sonenshein, Scott. 2014. How organizations foster the creative use of resources. Academy of Management Journal 57(3):814–848.
Sonenshein, Scott. 2016. Routines and creativity: From dualism to duality. Organization Science 27(3):739–758.
Suddaby, Roy und Royston Greenwood. 2005. Rhetorical strategies of legitimacy. Administrative Science Quarterly 50(1):35–67.
Torrance, Ellis Paul. 1966. Torrance Tests of Creative Thinking. Princeton: Personnel Press.
Tschang, Ted F. 2007. Balancing the Tensions Between Rationalization and Creativity in the Video Games Industry. Organization Science 18(6):989–1005.
UNCTAD, United Nations Conference on Trade and Development. 2008. Creative Economy Report. Geneva.
Unsworth, Kerrie L. 2001. Unpacking creativity. The Academy of Management Review 26(2):289–297.
Uzzi, Brian und Jarrett Spiro. 2005. Collaboration and creativity: The small world phenomenon. American Journal of Sociology 111(2):447–504.
Weckerle, Christoph, Michael Söndermann und Franz-Otto Hofecker. 2003. Kultur.Wirtschaft.Schweiz. Das Umsatz- und Beschäftigungspotential des Kulturellen Sektors. Zürich: Hochschule für Gestaltung uund Kunst.
Weick, Karl E. 1995. Sensemaking in Organizations. Thousand Oaks, London: SAGE Publications.
Woodman, Richard W., John E. Sawyer und Ricky W. Griffin. 1993. Toward a theory of organizational creativity. Academy of Management Review 18(2):293–321.
Zilber, Tammar B. 2009. Institutional maintenance as narrative acts. In Institutional Work: Actors and Agency in institutional Studies of Organizations, Hrsg. T.B. Lawrence, R. Suddaby, und B. Leca, 205–235. Cambridge University Press.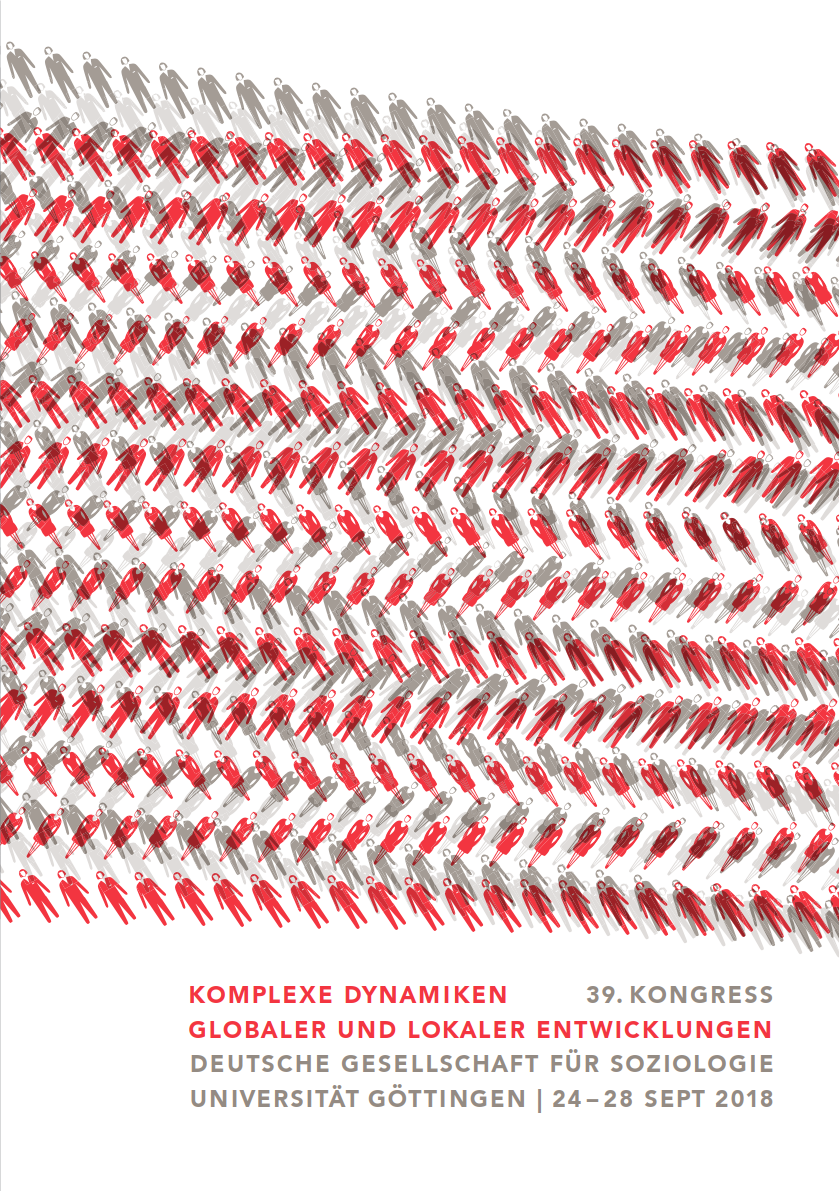 Veröffentlicht
2019-07-08
Zitationsvorschlag
[1]
Nyfeler, J. und Hasse, R. 2019. Neuerungen als Termingeschäft. Komplexe Dynamiken globaler und lokaler Entwicklungen. Verhandlungen des 39. Kongresses der Deutschen Gesellschaft für Soziologie in Göttingen 2018. . 39, (Juli 2019).
Rubrik
Sektionen Organisationssoziologie/Wissenschafts- und Technikforschung: Innovationsfelder. Handlungsfelder der Koordination komplexer Innovationen
Copyright (c) 2019 Komplexe Dynamiken globaler und lokaler Entwicklungen - 39. Kongress der Deutschen Gesellschaft für Soziologie
Dieses Werk steht unter der
Lizenz Creative Commons Namensnennung - Nicht-kommerziell 4.0 International
.
Beiträge im Verhandlungsband des 39. Kongresses der Deutschen Gesellschaft für Soziologie werden unter der Creative Commons Lizenz "Namensnennung-Nicht kommerziell 4.0 International (CC BY-NC 4.0)" veröffentlicht.
Dritte dürfen die Beiträge:
Teilen: in jedwedem Format oder Medium vervielfältigen und weiterverbreiten

Bearbeiten: remixen, verändern und darauf aufbauen
unter folgenden Bedinungen:
Namensnennung: Dritte müssen angemessene Urheber- und Rechteangaben machen, einen Link zur Lizenz beifügen und angeben, ob Änderungen vorgenommen wurden

Nicht kommerziell: Dritte dürfen das Material nicht für kommerzielle Zwecke nutzen