Ungleichheitsperzeptionen und Medien
Was bewirkt politische Kommunikation?
Ursula Dallinger

Universität Trier
Schlagworte:
Ungleichheit, Medien, Perzeptionen
Abstract
In den Sozialwissenschaften erhält das nur ungefähre Wissen der BürgerInnen über ökonomische Ungleichheiten viel Aufmerksamkeit. Die Wahrnehmung der Armutsquote, der Vermögensungleichheit, der eigenen Position in der Einkommensverteilung decken sich nicht mit den Fakten. Man vermutet 'verzerrte' politische Präferenzen aufgrund des Bias bei den Ungleichheitsperzeptione. Die Wahrnehmung wirtschaftlicher Ungleichheiten und welche Konsequenzen sich für "nötige" politische Reaktionen ergeben, dürfte durch die Medien beeinflusst sein. Die Rolle der Medien bei der Entstehung von Ungleichheitsperzeptionen ist aber wenig erforscht. Der Beitrag geht davon aus, dass an der "Übersetzung" objektiver Ungleichheit in Präferenzen für egalisierende Politik politische Kommunikation beteiligt ist. Er stützt sich einerseits auf Zallers (1992) Modell der Präferenzformation durch die von Medien verfügbar gemachte Rahmen und Informationen. Andererseits nutzen Akteure aus Parteien und Interessenverbänden, Kirchen und Zivilgesellschaft die Vorläufigkeit von Einstellungen zu policy issues und praktizieren crafted talk (Jacobs/Shapiro 2000), um Unterstützung zu generieren. Der Beitrag fragt empirisch auf der Basis von Surveyexperimenten, wie Medien die verteilungspolitische Nachfrage beeinflussen. Erprobt werden ein Priming, das die Tendenz zur Selbsteinstufung in der Mitte der Sozialhierarchie verunsichert, und ein Frame zu durch Umverteilung gefährdeten Arbeitsplätzen wie auch zu gesellschaftlichem Zusammenhalt.  
Literaturhinweise
Altmann, Steffen, Armin Falk, Uwe Jean Heuser und Jonas Radbruch. 2018. Wer soll zahlen. Die Zeit 9/2018.
Bail, Christopher A., Lisa P. Argyle, Taylor W. Brown, John P. Bumpus, Haohan Chen, M.B. Fallin Hunzaker, Jaemin Lee und Alexander Volfovsky. 2018. Exposure to opposing views on social media increase political polarization. Proceedings of the National Academy of Science of the United States 115(37):9216–9221.
Bartels, Larry M. 2008. Unequal Democracy. The Political Economy of The New Gilded Age. Princeton: University Press.
Brenke, Karl und Alexander S. Kritikos. 2017. Wählerstruktur im Wandel. DIW Wochenbericht 29/2017:595–606.
Brown-Iannuzzi, Jazmin L./ Kristjen B. Lundberg, Aaron C. Kay, B. Keith Payne. 2015. Subjective Status Shapes Political Preferences. Psychological Science 26(1):15–26.
Bublitz, Elisabeth. 2016. Misperceptions of Income Distributions. Hamburg, HWWI Research Paper 178.
Carcati, Luca und Fabio Lorenzi-Cioldi. 2012. Does status matter? Testing hypothesis from strong system justification theory. Revue international de psychologie sociale 25(1):67–95.
Chong, Dennis und James N. Druckman. 2007. Framing Theory. Annual Review of Political Science 10:103–126.
Condon, Meghan und Amber Wichowsky. 2019. Inequality in the Social Mind: Social Comparison. The Journal of Politics 82(1):149–161.
Converse, Philip E. 2006. The nature of belief systems in mass publics (1964). Critical Review: A Journal of Politics and Society 18:1–3, 1–74.
Czymara, Christian S. und Stephan Dochow. 2018. Mass media and concerns about immigration in Germany in the 21st century. European Sociological Review 34(4):381–401.
Dallinger, Ursula. 2018. Die unzufriedene Mitte und die politischen Folgen: Gerechtigkeitsperzeptionen und Wahlabsicht im Wandel. In Die Mitte als Kampfzone. Wertorientierungen und Abgrenzungspraktiken der Mittelschicht, Hrsg. Nadine Schöneck-Voß und Sabine Ritter, 85–106. Bielefeld: transcript.
Dallinger, Ursula. 2019. Wählerpräferenzen – der feste Fels der Politik? Experimente zur politischen Nachfrage nach Umverteilung. Soziale Welt 70(1):5–32.
Diermeier, Matthias, Henry Goecke, Judith Niehues und Tobias Thomas. 2017. Verzerrte Wahrnehmung: Wie Berichte über Ungleichheit verunsichern. IW-Kurzberichte 63.2017
Druckman, James N. 2004. Media Matter: How newspapers and television news cover campaigns and influence voters. Political Communication 22:463–481.
Eder, Anja, Markus Hadler und Markus Schweighart. 2018. "Komfortzone" Mittelschicht? Eine Analyse der subjektiven sozialen Position der Österreicher/-innen 1993 – 2016. In Komplexe Dynamiken globaler und lokaler Entwicklungen. Verhandlungen des 39. Kongresses der Deutschen Gesellschaft für Soziologie in Göttingen, Hrsg. Nicole Burzan. https://publikationen.soziologie.de/index.php/kongressband_2018 (Zugegriffen 04.05.2021).
Engelhardt, Carina und Andreas Wagener. 2018. What do Germans think and know about income inequality? A survey experiment. Socio-Economic Review 16(4):743–767.
Entman, Robert M. 2007. Framing Bias: Media in the distribution of power. Journal of Communication 57:163–173.
Erikson, Kimmo und Brent Simpson. 2012. What do Americans know about inequality? It depends on how you ask them. Judgment and Decision Making. 7(6):741–745.
Fatke, Matthias. 2018. Inequality perceptions, preferences conducive to redistribution, and the conditioning role of social position. Societies 8(4):99.
Festinger, Leon. 1952. A theory of social comparison processes. Human Relations 7(2):117–140.
Gilens, Martin. 2001. Political ignorance and collective policy preferences. The American Political Science Review 95(2):379-396.
Gilens, Martin. 1996a. Race and poverty in America: Public misperceptions and the American news media. Public Opinion Quarterly 60(4):515–541.
Gimpelson, Vladimir und Daniel Treisman. 2015. Misperceiving Inequality. IZA DP No. 9100.
Goerres, Achim, Rune Karlsen und Staffan Kumlin. 2020. What makes people worry about the welfare state? British Journal of Political Sciences 50(4):1519–37.
Harell, Allison, Stuart Neil Soroka und Iyengar Shanto. 2016. Race, prejudice and attitudes toward redistribution: A comparative experimental approach. European Journal of Political Research: DOI: 10.1111/1475-6765.12158
Hochschild, Jennifer L. 2000. Where you stand depends on what you see: Connections among values, perceptions of fact, and political prescriptions. In Citizens and Politics, Hrsg. James Kuklinski, 313–340. New York: Cambridge UP.
Hüther, Michael und Mattias Diermeyer. 2019. Perception and reality—economic inequality as a driver of populism? Analyse & Kritik 41(2):337–357.
Jacobs, Lawrence R. und Robert Y. Shapiro. 2000. Politicians don't pander: Political manipulation and the loss of democratic responsiveness. Contemporary Sociology: DOI:10.2307/3089612
Kangas, Olli E., Mikko Niemelä und Sampo Varjonen. 2013. When and why do ideas matter? The influence of framing on opinion formation and polity change. European Political Science Review 6:77–92.
Karadja, Mounir, Johanna Möllerström und David Seim. 2014. Richer (and holier) than thou? The effect of relative income improvements on demand for redistribution. IFN Working Paper 1042.
Kelley, Jonathan und M.D.R. Evans. 1993. The legitimation of inequality: Occupational earnings in nine nations. The American Journal of Sociology 99(1):75–125.
Kenworthy, Lane und Leslie McCall. 2008. Inequality, public opinion and redistribution. Socio-Economic Review 6:35–68.
Kootstra, Anouk und Femke Roosma. 2018. Changing public support for welfare sanctioning in Britain and the Netherlands: A persuasion experiment. Social Policy and Administration 52(4):847–861.
Kuklinski, James H., Paul J. Quirk, Jennifer Jerit, David Schwieder und Robert Larssen. 2000. Misinformation and the currency of democratic citizenship. The Journal of Politics 62(3):790–816.
Lippmann, Walter. 1964 [1922]. Die öffentliche Meinung. Wie sie entsteht und manipuliert wird. München. Rütten und Loening.
Maurer, Markus. 2010. Agenda-Setting. Baden-Baden: Nomos.
Naumann, Elias. 2017. Do increasing reform pressures change welfare state attitudes? An experimental study on population ageing, pension reform preferences, political knowledge and ideology. Ageing & Society 37:266–294.
Niehues, Judith. 2014. Subjective Perceptions of Inequality and Redistributive Preferences: An International Comparison. Paper IZA Bonn.
Niehues, Judith. 2019. Verteilungsdebatte: Ungleichheit zwischen Wunsch, Wahrnehmung und Wirklichkeit. Frankfurter Allgemeine Zeitung 26.7.2019
Norton, Michael I. und Dan Ariely. 2011. Building a better America—One wealth quintile at a time. Perspectives on Psychological Science 6(1):9–12.
Payne, Keith. 2017. The broken ladder. How inequality affects the way we think, live, and die. New York. Viking.
Pontusson, Jonas, Nathalie Giger, Jan Rosset, Davy-Kim Lascombes. 2020. Introducing the Inequality and Politics Survey. Working-Paper Unequal democracies Nr. 16. University Geneve.
Poppitz, Philipp. 2016. Does self-perceptions and income inequality match? Working paper HBS.
Rudzio, Kolja. 2012. Armut – Steigt der Anteil der Armen in Deutschland? Viele glauben das, und die SPD will im Wahlkampf damit punkten. Doch stimmt es? Zeit-online 19.12.2012.
Sachweh, Patrick und Evelin Sthamer. 2019. Why do the affluent find inequality increasingly unjust? European Sociological Review 35(5):651–668.
Schemer, Christian. 2014. Media effects on racial attitudes: Evidence from a three-wave panel survey in a political campaign. International Journal of Public Opinion Research 26(4):531–542.
Schlüter, Elmar und Eldad Davidov. 2013. Contextual sources of perceived group threat: Negative immigration-related news reports, immigrant group size and their interaction, Spain 1996–2007. European Sociological Review 29(2):179–191.
Schmidt-Catran, Alexander und Christian S. Czymara. 2020. "Did you read about Berlin?" Terrorist attacks, online media reporting and support for refugees in Germany. Soziale Welt 71(1–2):201–232.
Schuck, Andreas R.T. und Claes deVreese. 2004. Between risk and opportunity. News framing and its effects on support for EU Enlargement. European Journal of Communication 21(1):5–32.
Thomas, Tobias, Matthias Diermeier, Henry Goecke und Judith Niehues. 2018. Einkommensungleichheit, wahrgenommene Ungleichheit und Einfluss der Medien. Wirtschaftspolitische Blätter 1:39–64.
Thomas, William Isaac. 1928. The methodology of behavior study. In The Child in America: Behavior Problems and Programs, Hrsg. Thomas William Issac und Dorothy Swaine Thomas, 553–576. New York: Alfred A. Knopf.
Trump, Kris Stella und Ariel White. 2018. Does inequality beget inequality? Experimental tests of system justification motivation. Journal of Experimental Political Science 5(3):206–216.
Wegener, Bernd.1987. The illusion of distributive justice. European Sociological Review 3(1):1–13.
Zaller, John R. 1992. The Nature and Origins of Mass Opinion. Cambridge: Cambridge University Press.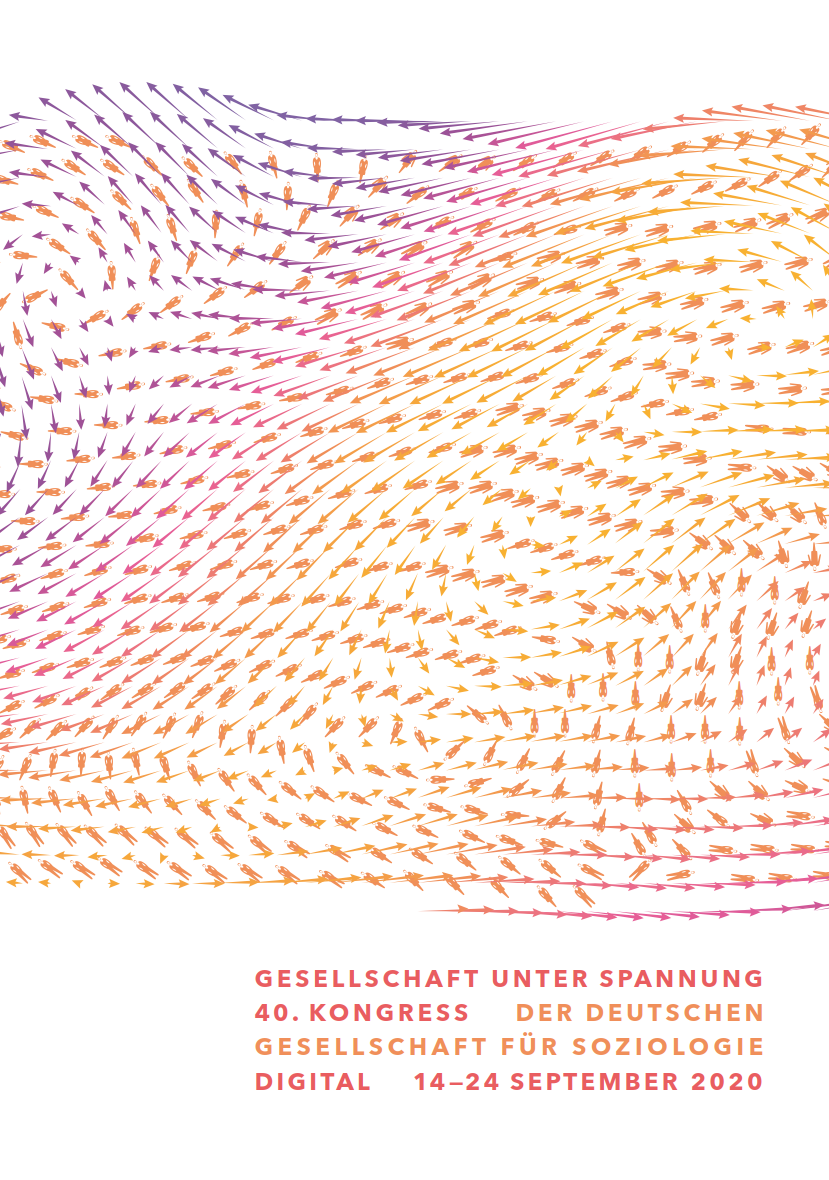 Veröffentlicht
2021-06-23
Rubrik
Ad-hoc: Die soziale Formierung subjektiver Prekarität – Soziologische Wahrnehmungsforschung im Spannungsverhältnis von Struktur und Individuum
Copyright (c) 2021 Gesellschaft unter Spannung. Verhandlungen des 40. Kongresses der Deutschen Gesellschaft für Soziologie 2020
Dieses Werk steht unter der
Lizenz Creative Commons Namensnennung - Nicht-kommerziell 4.0 International
.
Beiträge im Verhandlungsband des 40. Kongresses der Deutschen Gesellschaft für Soziologie werden unter der Creative Commons Lizenz "Namensnennung-Nicht kommerziell 4.0 International (CC BY-NC 4.0)" veröffentlicht.
Dritte dürfen die Beiträge:
Teilen: in jedwedem Format oder Medium vervielfältigen und weiterverbreiten

Bearbeiten: remixen, verändern und darauf aufbauen
unter folgenden Bedinungen:
Namensnennung: Dritte müssen angemessene Urheber- und Rechteangaben machen, einen Link zur Lizenz beifügen und angeben, ob Änderungen vorgenommen wurden

Nicht kommerziell: Dritte dürfen das Material nicht für kommerzielle Zwecke nutzen