Choice in maternity care and childcare policies in the Netherlands and Germany
Hannah Zagel

Humboldt-Universität zu Berlin

Nadine Reibling

Universität Siegen
Schlagworte:
Childcare, Maternity care, Netherlands, Germany
Abstract
This paper investigates whether choice has gained importance as a political narrative and factually in care policies in Germany and the Netherlands since the late 1980s. Previous literature suggests that welfare reform introduced an increasing focus on choice in various policy areas in Bismarckian welfare states and beyond, but whether choice is a central aspect across different care policies is not well understood. We argue that choice is an important component for analysing change in family-related policies, because it reflects how much welfare states have moved towards supporting individualism in family arrangements. Moreover, economic as well as sociological research is interested in choice due to its association with quality of care and inequalities. By analysing maternity care policies alongside childcare policies, we also add a hitherto often neglected state intervention in family life, i.e. policies addressing pregnancy and childbirth.
Literaturhinweise
Albrecht, Martin et al. 2019. Stationäre Hebammenversorgung. Berlin: IGES Institut.
Amelink-Verburg, Marianne P., und Simone E. Buitendijk. 2010. Pregnancy and Labour in the Dutch Maternity Care System: What Is Normal? The Role Division Between Midwives and Obstetricians. Journal of Midwifery & Women's Health 55:216–225.
Auth, Diana. 2012. Betreuungsgeld und Familienpflegezeit: mehr Wahlfreiheit und bessere Vereinbarkeit? femina politica – Zeitschrift für feministische Politikwissenschaft 1:135–139.
Benoit, Cecilia et al. 2005. Understanding the social organisation of maternity care systems: midwifery as a touchstone. Sociology of Health & Illness 27:722–737.
BMFSFJ. 2006. Siebter Familienbericht. Familie zwischen Flexibilität und Verlässlichkeit - Perspektiven für eine lebenslaufbezogene Familienpolitik. Berlin http://www.bmfsfj.de/BMFSFJ/Service/Publikationen/publikationen,did=75114.html (Zugegriffen: 28. März 2011).
Bonoli, Giuliano. 2005. The politics of the new social policies: providing coverage against new social risks in mature welfare states. Policy & Politics 33:431–449.
Bünning, Mareike. 2015. What Happens after the 'Daddy Months'? Fathers' Involvement in Paid Work, Childcare, and Housework after Taking Parental Leave in Germany. European Sociological Review 31:738–748.
De Vries, Raymond. 2001. Midwifery in the Netherlands: Vestige or vanguard? Medical Anthropology 20:277–311.
De Vries, Raymond, Marianne Nieuwenhuijze, und Simone E. Buitendijk. 2013. What does it take to have a strong and independent profession of midwifery? Lessons from the Netherlands. Midwifery 29:1122–1128.
EURO-PERISTAT, SPCE, EUROCAT, und EURONEOSTA. 2008. European Perinatal Health Report. Paris: EURO-Peristat www.europeristat.com.
Gerlach, Irene. 2009. Familienpolitik. Wiesbaden: VS Verlag für Sozialwissenschaften.
Goodarzi, Bahareh et al. 2018. Risk and the politics of boundary work: preserving autonomous midwifery in the Netherlands. Health, Risk & Society 20:379–407.
Hakemeyer, Uta, und Günther Keding. 1986. Zum Aufbau der Hebammenschulen in Deutschland im 18. und frühen 19. Jahrhundert. In Zur Geschichte der Gynäkologie und Geburtshilfe: Aus Anlaß des 100jährigen Bestehens der Deutschen Gesellschaft für Gynäkologie und Geburtshilfe, Hrsg. Lutwin Beck, 63–88. Berlin, Heidelberg: Springer.
Henninger, Annette, Christine Wimbauer, und Rosine Dombrowski. 2008. Geschlechtergleichheit oder "exklusive Emanzipation"? Ungleichheitssoziologische Implikationen der aktuellen familienpolitischen Reformen. Berliner Journal für Soziologie 18:99–128.
Kaminska, Monika-Eva. 2015. The Netherlands. In Maternity Services and Policy in an International Context: Risk, Citizenship and Welfare Regimes, Hrsg. Patricia Kennedy und Naonori Kodate, 232–257. Routledge.
Knijn, Trudie. 2008. Private Responsibility and Some Support. Family Policies in The Netherlands. In Family Policies in the Context of Family Change: The Nordic Countries in Comparative Perspective, Hrsg. Ilona Ostner und Christoph Schmitt, 155–173. Wiesbaden: VS Verlag für Sozialwissenschaften.
Knijn, Trudie, und Jane Lewis. 2017. ECEC: childcare markets in the Netherlands and England. In Public or Private Goods? Hrsg. Brigitte Unger, Daan van der Linde und Michael Getzner. Cheltenham UK; Northampton MA: Edward Elgar Publishing. doi: https://doi.org/10.4337/9781785369551.00016
Kooperationsverbund gesundheitsziele.de, und BMG. 2017. Nationales Gesundheitsziel: Gesundheit rund um die Geburt. Berlin: Bundesgesundheitsministerium https://gesundheitsziele.de//cms/medium/1330/P127486_broschuere_geburt_07_2017_bf.pdf.
Krapf, Sandra. 2014. Who uses public childcare for 2-year-old children? Coherent family policies and usage patterns in Sweden, Finland and Western Germany. International Journal of Social Welfare 23:25–40.
Leitner, Sigrid. 2019. Familienpolitik. In Handbuch Sozialpolitik, Hrsg. Herbert Obinger und Manfred G. Schmidt, 739–760. Wiesbaden: Springer Fachmedien.
Lewis, Jane. 2008. Childcare Policies and the Politics of Choice. The Political Quarterly 79:499–507.
Mätzke, Margritta, und Ilona Ostner. 2010. The Role of Old Ideas in the New German Family Policy Agenda. German Policy Studies 6:119–162.
Menke, Katrin, und Ute Klammer. 2017. Mehr Geschlechtergerechtigkeit – weniger soziale Gerechtigkeit? Familienpolitische Reformprozesse in Deutschland aus intersektionaler Perspektive. Sozialer Fortschritt 66:213–228.
Morel, Nathalie. 2007. From Subsidiarity to 'Free Choice': Child- and Elder-care Policy Reforms in France, Belgium, Germany and the Netherlands. Social Policy & Administration 41:618–637.
Oliver, Rebecca J., und Margitta Mätzke. 2014. Childcare Expansion in Conservative Welfare States: Policy Legacies and the Politics of Decentralized Implementation in Germany and Italy§. Social Politics: International Studies in Gender, State & Society 21:167–193.
Perdok, Hilde. 2017. "Challenges of integrating maternity care". PhD Dissertation, Amsterdam: Vrije Universiteit Amsterdam https://research.vu.nl/ws/portalfiles/portal/42801925/complete+dissertation.pdf.
Plappert, Claudia, Joachim Graf, Elisabeth Simoes, Stefani Schönhardt, und Harald Abele. 2019. The Academization of Midwifery in the Context of the Amendment of the German Midwifery Law: Current Developments and Challenges. Geburtshilfe und Frauenheilkunde 79:854–862.
Reibling, Nadine, und Monika Mischke. 2015. Germany. In Maternity Services and Policy in an International Context: Risk, Citizenship and Welfare Regimes, Hrsg. Patricia Kennedy und Naonori Kodate, 205–231. Routledge.
Reibling, Nadine, und Claus Wendt. 2012. Gatekeeping and provider choice in OECD healthcare systems. Current Sociology 60:489–505.
Rürup, Bert, und Sandra Gruescu. 2006. Nachhaltige Familienpolitik im Interesse einer aktiven Bevölkerungsentwicklung. Berlin: Bundesministerium für Familie, Senioren, Frauen und Jugend.
Schroth, U. 1985. Das neue Hebammengesetz aus der Sicht der Hebamme. Archives of gynecology 238:46–49.
Trappe, Heike. 2013. Väter mit Elterngeldbezug: Nichts als ökonomisches Kalkül? / Fathers Who Claim Parental Leave Benefits: Only a Matter of Economic Considerations? Zeitschrift für Soziologie 42:28–51.
Villmar, Andrea, Mirjam Peters, Thomas Hering, Rainhild Schäfers, und Nicola H. Bauer. 2020. Geburtshilfliche Versorgung durch Hebammen – Angebot und Erreichbarkeit – Ergebnisse der HebAB.NRW Studie. In German Association of Midwifery Science, Doc20dghwiP28. Bochum: 5th International Conference of the German Association of Midwifery Science.
Vos, Amber A., Sabine F. van Voorst, Eric A. P. Steegers, und Semiha Denktaş. 2016. Analysis of policy towards improvement of perinatal mortality in the Netherlands (2004–2011). Social Science & Medicine 157:156–164.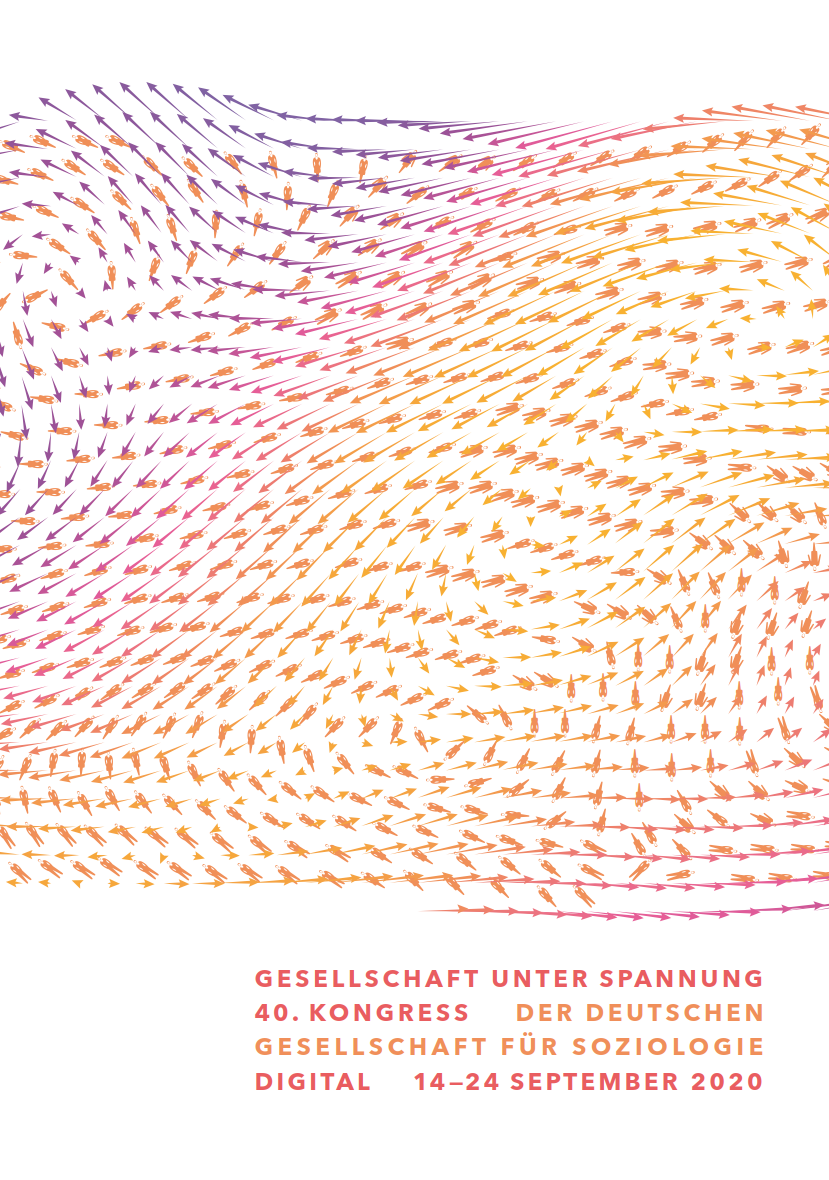 Veröffentlicht
2021-08-10
Rubrik
Ad-hoc: Gebären und Geburt unter Spannung
Copyright (c) 2021 Gesellschaft unter Spannung. Verhandlungen des 40. Kongresses der Deutschen Gesellschaft für Soziologie 2020
Dieses Werk steht unter der
Lizenz Creative Commons Namensnennung - Nicht-kommerziell 4.0 International
.
Beiträge im Verhandlungsband des 40. Kongresses der Deutschen Gesellschaft für Soziologie werden unter der Creative Commons Lizenz "Namensnennung-Nicht kommerziell 4.0 International (CC BY-NC 4.0)" veröffentlicht.
Dritte dürfen die Beiträge:
Teilen: in jedwedem Format oder Medium vervielfältigen und weiterverbreiten

Bearbeiten: remixen, verändern und darauf aufbauen
unter folgenden Bedinungen:
Namensnennung: Dritte müssen angemessene Urheber- und Rechteangaben machen, einen Link zur Lizenz beifügen und angeben, ob Änderungen vorgenommen wurden

Nicht kommerziell: Dritte dürfen das Material nicht für kommerzielle Zwecke nutzen